REHOMING YOUR SCHNAUZER
There are more options today than ever before for rehoming your pet. There are direct-placement options, shelters, all-breed rescue groups, and breed-specific rescue groups. NJSRN encourages you to weigh your options carefully. We suggest individuals place purebred dogs with breed-specific rescue groups like NJSRN, which is recognized by the American Miniature Schnauzer Club's rescue program. Breed-specific rescue groups are experts in the breed, and those recognized by the national breed club must follow the club's rescue guidelines.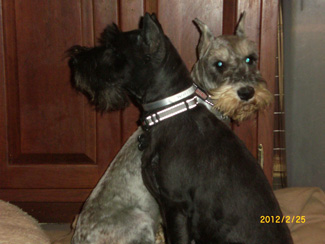 We strongly discourage individuals from advertising their pets online, in new or "shopper" papers, on community bulletin boards, or elsewhere. Most people have little experience with rehoming pets, and even though they want what is best for their pet, this inexperience can be fatal. Please see Free to Good Home for a better understanding of what can happen to your family pet if it ends up in the wrong hands.

Miniature Schnauzers typically do poorly in a shelter environment. What we consider to be typical Schnauzer behavior can easily be misinterpreted as aggression, poor temperament, or a behavioral problem. The noise of a shelter and the anxiety from being abandoned can overload a Schnauzers senses, making it go "cage crazy." Your beloved pet's chances for adoption from a shelter are slim.

All reputable and responsible rescue groups adhere to certain standards. They ensure that a dog's vaccinations and basic medical needs are met prior to adoption. They require adopters to pay an adoption donation - both because people tend to value the things they pay for more than those they get for free, and to recoup at least some of the expenses of caring for the dog while it is in their rescue program.

All-breed rescue groups do their best, but they can't be familiar with every breed of dog. Placing a German Shepherd Dog, a Greyhound, or a Golden Retriever is quite different from placing a Miniature Schnauzer. This is where the expertise of a breed-specific rescue group comes in. For information on NJSRN's expertise, see Why NJSRN?

If you need to rehome your Miniature Schnauzer, please complete our online pet information form. Once submitted, this form will be sent to NJSRN automatically. When completing the form, please include a description of what you believe your pet's "ideal home" to be, We require a recent photograph (e-mail the photo to surrender@njsrn.org) and all of your dog's medical records (have your veterinarian(s) fax the records and the veterinary notes to NJSRN at 855-416-5776). Please be sure to include your name and your pet's name in your e-mail message and fax. With this information, we can begin to put together a profile for your dog, and post the information on our website.

Once we receive the completed pet information form, photo, and vet records, NJSRN will contact you to arrange an evaluation of your dog (if necessary), to talk to you about what is happening with your request, and - if we believe we can place your dog - to schedule a date and time for you to surrender your Miniature Schnauzer to NJSRN. It will ease your dog's anxiety and help in its transition if you can send along your dog's bed, favorite toys, etc.

Below is a list of medical care that we provide before adoption. Having a copy of your pet's complete medical records will help your pet's long-term health - over-vaccination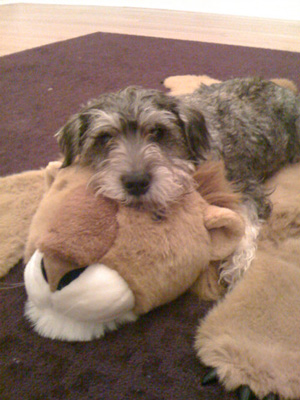 can lead to a host of medical problems - and will help NJSRN to ensure that we wisely use the donations entrusted to us since we will not have to pay for duplicate tests or treatments. Before being re-homed, each of our rescues receives the following, as needed:
veterinary examination;
spay/neuter;
DA2PPv and Rabies vaccinations;
treatment for worms and intestinal parasites;
4DX test;
dental cleaning and extractions;
urinalysis to detect potential urinary tract infections and bladder stones; and
bloodwork.
If the dog has any other medical needs, they also will be addressed. We will have it microchipped and it will be groomed or shaved down if its coat is very matted. The dog will also be evaluated for temperament and a determination of the type of home that is best suited for its needs. The cost to NJSRN for all of these services averages more than $450!!

Although we do not charge a fee for accepting dogs into our rescue program, and will not turn away a dog that we believe can be re-homed safely, we appreciate any financial assistance that you can provide so that we can continue to help others who need to re-home their pets. Your donation is very much appreciated!

If you have any questions, or if you must surrender your pet within the next 72 hours, please contact our rescue hotline at 732-920-8242. If no one is available when you call, please leave your name, area code, and phone number. We will return your call as quickly as possible.

If you live outside of our service area (the northeastern United States), please see The Rescue Program on the American Miniature Schnauzer Club's website, or contact the AMSC Rescue Chair (who also happens to be a member of NJSRN!) at rescue@amsc.us for a referral. If you need a referral to another breed-specific rescue group, please check the American Kennel Club's website. (Select "Breeds" from the menu on the top left, select "Breed Rescue" from the menu on the left, and then select the breed of dog from the drop-down list.)

Top: Whitney (front) and Daphne settle into their new foster home.
Bottom: Buddy snuggles with his Tiger.