A DOG NAMED FRITZ
NJSRN began with a little dog from Texas, the Internet, and an online group of Schnauzer lovers.
Fritz, as the dog was formerly known, had been chained to a dog house in the hot Texas sun for three years. His owner had died, and his story was posted on the online group affectionately known as "The Hoflin List." Nadine and Lisa (NJSRN's co-founders) immediately began working with several others to rescue Fritz (now known as "Fred"), who soon flew cross-country to New Jersey, where he was placed in his forever home with NJSRN's third member, Sherri, and her family. Thanks to one needy dog and the Hoflin List, an alliance was formed.

Fred was the first success story for the group now known as NJSRN. Since 1997, NJSRN has grown from an alliance of three to a group nearly 10 times that size that includes a Board of Directors, members, foster home volunteers, and transport volunteers - and has placed nearly 2,000 Schnauzers and Schnauzer mixes into permanent, loving homes.


Hi! My name is Fred!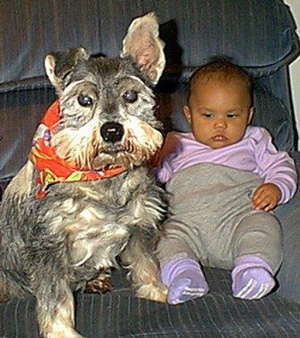 That's me on the left in the photo. I look like I have a pretty good life, don't I? Well, my life wasn't always this good.

My first memory is of sitting in the hot Texas sun. It was just my three-foot long chain, my box, and me. I got food and water about once a week. No one talked to me. No one played with me. No one petted me. I was lonely. I don't know how long I lived like that.

I remember feeling something sting me. Not like a fly, or a bee. Both had stung me before. This felt much worse. The stinging kept happening. I looked around, and I saw some kids with a BB gun. That's what was stinging me. Why were they shooting me? Couldn't they see that I just wanted someone to love? I don't know how long I lived like that.

One day, I went to a new house - not a house like my box in the sun - this was a home. I met John, his wife Sherri, and their daughter Faith. (That's my girl, Faith, in the picture with me.) John and Sherri talked to me a lot. They fed me, gave me water, toys, and treats. They took care of me, and they loved me. They told me how lucky they were to adopt me - THEY were the lucky ones? I couldn't believe it. I was the lucky one!

They told me that someone saw me sitting in the hot sun. That person posted a message to an Internet group known as the "Hoflin Schnauzer List," and many people I never met worked together to rescue me. They helped me get well; they found Sherri, John, and Faith to take care of me; and they helped me get to New Jersey.

Sherri told me that because of me, the New Jersey Schnauzer Rescue Network (NJSRN) was formed. Because of me! Can you believe it? Me. Someone saw that I was lonely. They told someone, Nadine and Lisa read about me on the Hoflin List, and soon a whole bunch of people I never met work to rescue me and to find me a new home. All the way from Texas to New Jersey!

I made that trip from Texas to New Jersey nearly 19 years ago - on August 31, 1997. I'm no longer physically with my family in New Jersey, but I know that I live on in their hearts, and in the hearts of all the people at NJSRN. I'm so glad that these people heard about me, and proud to know that in the past 19 years they've helped so many other dogs like me that just needed a second chance.

NJSRN is ending its second decade of helping dogs in need. Of helping families who want a dog to love. Many years later - despite the nights of worrying, the extra miles on their cars, the long distance phone bills, the tears over dogs they've known and loved - most of the original members are still rescuing Schnauzers and Schnauzer mixes in need. All for the love of a dog named Fred and the many others who followed.

Thank you to the many unnamed people who helped rescue Fred from the hot Texas sun. Thank you to John, Sherri, and Faith for giving Fred the best years of his life! And thank you to all of our adopters, foster homes, and other volunteers who give their time and money. Thank you from Fred and the ones who followed - the 56 dogs transported in 2000 from Texas to New Jersey in a rented van by two of our members; the endless puppy mill dogs who never knew what it was like to live in a home, have someone love them, or even play with a toy until they found their way to NJSRN; dogs at shelters who were either saved within hours of being euthanized or were in danger of going "cage crazy"; dogs found wandering the streets, abandoned by those who were supposed to be the ones to protect them; the 53 dogs rescued in 2009 - 2010 from a backyard breeder in Maryland; and the dogs who have lost their loving homes due to the economy, divorce, or illness - NJSRN has helped nearly 2,000 Schnauzers since August 1997! But, we can't do it without you.
Won't you help NJSRN continue our mission? Whatever you can do - whether you can donate money, time, or other support - will help a Schnauzer in need. Thank you.