NJSRN - THE EARLY YEARS
Nadine Tare
President and Co-Founder, NJSRN
As a member of the American Miniature Schnauzer Club (AMSC) and part of a family who has been breeding and showing Miniature Schnauzers for more than 60 years, I had always been acutely aware of the responsibility of pet ownership. The first actual rescue operation I was involved in took place in 1997. I was a member of what is affectionately known as "the Hoflin List," an online e-mail group of Schnauzer lovers. A member of the list reported a Miniature Schnauzer in a desperate situation: the owner had died and the dog had been chained to a doghouse in the hot Texas sun for three years. Every few days a family member would come by to give "Fritz" food and water, but otherwise he had been deserted. He hadn't been groomed in three years, and neighborhood kids were using him for BB target practice. The compassionate dog-lovers on Hoflin were horrified to hear about how Fritz was suffering, and before long, I was working with several others to set up a plan to rescue him. The deceased owner's family agreed to relinquish Fritz, aptly nicknamed "Lucky" by Hoflin list members. He was rescued by a local list member who bathed and groomed him and fed him a good meal. Another person then fostered him for two weeks until arrangements could be made for a permanent home. "Fred," as he was eventually renamed, was flown from Texas to New Jersey on August 31, 1997 to begin his new life with Sherri R. and her family. This is how Sherri and I met, and how, along with Lisa Winters and a few other online friends, New Jersey Schnauzer Rescue Network, Inc. came into being.
Everyone in rescue has stories, and we've had more than a few highlights along the way. One of our favorites occurred in 2000, when I received a call from a woman in Texas. She loved Schnauzers, and five years previous, she had decided to quit her job and build a kennel so she could raise them. To her credit, she was very picky about the homes her pups went to, but before long things got out of hand and she had more dogs than she could sell. She was running out of money and didn't know where to turn. Friends advised her to put the excess dogs to sleep, but having seen a rescue post I had placed online, she called to see if NJSRN could offer assistance. The group discussed it, and we decided to accept the challenge: we would attempt to rescue more than 50 Schnauzers from Texas! The planning and preparations required for this effort were mind-boggling. A corporation would probably have been hard-pressed to accomplish this undertaking successfully, yet a group of volunteers with little experience managed to pull it off in their spare time with hardly a hitch. Routes were mapped out, vans were rented, crates, collars, leashes, bowls, and dog food were purchased. Arrangements were made for overnight stays at motels for the humans, and at rescue-friendly vets' offices for the canines. Two NJSRN volunteers drove from Pennsylvania to Tennessee, where they met the kennel owner and her husband, who had driven up from Texas in a rental van filled with Schnauzers. Our rescuers' resourcefulness was indispensable; they even called upon the local highway patrol at one point to help them identify an appropriate meeting spot in Tennessee. The one crisis during transport occurred when the rescuers stopped to spend the night at a relative's house in southern Virginia on the return trip. One of the dogs escaped! Nobody got much sleep that night, but "Roanoke Runaway" was finally recaptured and transported safely back to New Jersey, along with the other 23 dogs in the van. Once in New Jersey, the dogs were unloaded at AMSC member and rescue volunteer Dorothy Harvey's boarding kennel, where most of NJSRN's members were waiting.
For the next seven or eight hours, a bathing and grooming marathon took place. We were horrified to find that not only were some of the dogs matted and flea-infested, but others had sarcoptic mange. Every one of us was soon itching and couldn't wait to get home to jump in the shower! It was madness, but rarely can I remember such exhilaration, or such an amazing display of teamwork. My mom came by at dinnertime with a huge tray of fried chicken to feed the hungry hoards, and by midnight, we had all the dogs dipped, bathed, groomed, fed, and tucked into their kennel runs for the night. Early the next morning, two rescuers from Janet Loreck's Miniature Schnauzer Rescue Service of New England arrived in their own van to transfer half the dogs up to Boston for re-homing in the New England area. We transported a second group of dogs from Texas two months later in a repeat of the whole adventure. Today all 56 Schnauzers are happy and healthy in their new homes, and the Texas kennel owner has retired.
Soon after the Texas Schnauzer escapade, two new dogs were turned in to rescue by a long-distance trucker. The man's wife had left him, and unfortunately he could not take the dogs with him, by himself, on the road. The dogs were seasoned travelers and, in fact, the female, Sassy Marie, had once delivered a litter of puppies on the road in the bed of the truck. Once we had her in rescue, we found out that Sassy was pregnant again. We decided that she could stay in Pennsylvania with her rescuer, Karen F., until close to delivery, at which time Karen would bring her to me, since I had experience whelping litters. Unfortunately, we did not have a due date, and Karen's vet was mistaken in his estimate. As soon as Karen realized the time was closer than we had thought, she called me. I told her to bring Sassy to me immediately. She did, and I'll never forget that night. Karen called from the road saying, "Sassy's whining, what should I do?" We met at a rest stop on the Garden State Parkway. Sassy slept in her crate in the back of Karen's car while we chatted briefly. Imagine our surprise when Karen lifted her out of her crate, and inside were two beautiful, healthy newborn puppies! We whisked Sassy to my home where she delivered a third puppy, while Karen almost had a nervous breakdown on her way back to Pennsylvania, thinking about what had just happened. But that's not the end; these puppies had a destiny!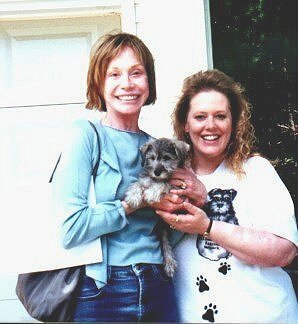 About two months later, Lisa's mom, Bobbi, answered the NJSRN rescue phone at their grooming shop. "Hi! This is Mary Tyler Moore. I'm interested in adopting a Schnauzer." Well, Bobbi wasn't born yesterday! Mary Tyler Moore was a famous movie and TV star - what would she be doing calling??? Every so often rescue gets crank calls, and this was an obvious one, so Bobbi hung up. The phone rang again. "This is Mary Tyler Moore. I just called, but we were disconnected." This time there was no mistaking that voice! A week later. Mary and her husband drove to central Jersey and spent a lovely afternoon with several NJSRN members. They adopted Sassy's daughter, and "Shana" is now often pictured in the newspapers out and about New York City with her famous mistress. (Right: NJSRN's co-founder and former member, Lisa with Mary Tyler Moore and Shana.) All of our rescues should have it so good!
In closing, I'd like to mention something that people are always asking me. As a rescuer, what three things do I wish for most? The first is more time. Unfortunately there are only 24 hours in a day. Second, more foster homes. This is our most desperate need! And third, I wish more people would consider the adoption of an older dog. Most of our rescues are middle-aged or older, yet almost everyone wants a young dog. While it is understandable that people wish for as much time as possible to spend with their adopted Schnauzer, our older dogs need and deserve homes as well! We, as rescuers, cannot operate without committed adopters, and without families who are willing to provide loving homes for older dogs, we will not be able to function. Gigi was one of our favorite rescues. She was 15 years of age when she came to us. We found a wonderful family to adopt her, and she lived three more years. She passed away peacefully in her sleep when she was 18. And while it's true that her family had only three years with her, it made all the difference in the world - to Gigi, to her new family, and to NJSRN!